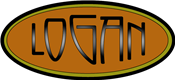 November 2013
Logan Turns 9!



November 17th marks our 9th anniversary! Thad, Ryan and Kevin would like to thank everyone who has enjoyed what we do for the last nine years. In celebration, Chef Thad is preparing a special tasting menu. The anniversary tasting menu will be available November 19th through 23rd, remember on Friday and Saturday only after 8pm. So make your reservations now and celebrate nine years of great food with us!
Pasty Time!
No doubt if you are from Michigan your family has a pasty recipe, brought by your ancestors across the pond and passed down generationally. Most of us like to claim our family recipe is traditional. Like many foods that have survived through the centuries, the earliest mention of the pasty dates back to the 13th century, there are many variations of the tradition with some common denominators.

Those commonalities seem to be a round piece of pie dough folded over meat and vegetables, baked without a dish. Surprisingly the "traditional" meat used has varied from venison to fish, mutton, and of course beef, which is considered by most to be proper. The vegetables used seem a little more consistent recipe to recipe; potato, rutabaga and onion.

After a little research it is apparent, pasty filling was simple and made from what was available, not surprising for an old world food. What was surprising to learn though, is that the pasty was not just for the working class or miners. Pasties have been enjoyed by royalty as well, so much so that they were used to pay homage to King Henry III.

The pasty was even popular enough to be mentioned in some of Shakespeare's plays. With such a long history and having been enjoyed by everyone across the social spectrum it's no wonder Chef Thad has tapped into his Scottish roots to bring the pasty to Logan. Starting from his grandmother's recipe, he has poured all his talent into this "traditional" dish to make it his own.

So give us a call or just stop in to Logan where Chef Thad will be preparing different pasties all through the fall and winter months.


Just A Friendly Reminder…
Logan will be closed for Thanksgiving - Thursday, November 28th, 2013